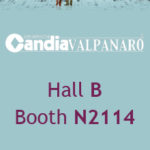 APRIL 29 – MAY 2
Georgia World Congress Center
Halls B + C
Atlanta, Georgia USA
Hall B – Booth N2114
CANDIA- VALPANARO will be there to present its products, including the new line produced with the technology of extruded porcelain stoneware. The size of the planks is 24″ x 72″, 12″ x 72″ and 8″ x 72″. The flexibility and the characteristics of these products, due to the cold extrusion process, give the opportunity to use for all purposes, commercial and residential. We will be pleased to see you there.
CANDIA- VALPANARO sarà presente al Coverings, presenterà oltre ai suoi prodotti le nuove serie prodotte con la nuova tecnologia del porcellanato estruso nei formati 60×180, 30×180 e 20×180. Grazie a questo particolare processo, produttivo che garantisce caratteristiche tecniche all'avanguardia, conseste l'utilizzo di queste tipologie è x entrambi gli usi residenziale e commercial.
Saremo lieti di vedervi lì.